If you are looking for a way to boost your funds, boost morale and boost your department throughout the school... look no further than Fan-o-grams!
Imagine this... Your budget has just been increased! Not only do you have ample money to fund your season and your classes, you have enough to pay your seamstress, your accompanist and your choreographer. There is even enough in your departmental account for you to reimburse yourself for the four pizzas, two rolls of duct tape, gallon of black paint and box of screws you bought for the set crew last week! Unbelievable! What a wonderful moment!

For most of us in theatre education, this would indeed be a dream come true! If your department is like mine, the needs are many, the money is tight and creative resourcefulness is imperative. As the head of a small drama department, I am always on the look-out for simple, effective ways of fundraising. Fundraising that is easy to launch, maintain and manage. Fundraising methods that would enhance not only our bank account, but also my students. A few years ago, we struck fundraising gold. We found the Fan-o-G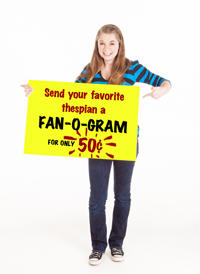 ram.

It all began with one of my juniors. She had been to see a production at another local high school. This school had a table where, for fifty cents, you could send a lollipop with a note backstage to the actors. If we wanted to give this a try, she said she would be happy to work the table during our next theatrical production. The rest, as they say, is history. We eliminated the lollipop and named the note a Fan-o-gram. Two Fan-o-grams fit on one 8½ x11 sheet of paper. We sell Fan-o-grams at all the plays and school talent shows for $.50 each. On average, we make around $75.00 per night. While it's not a lot, if you create a school culture of having this at every production, talent show, choir and band concert, you can raise hundreds of dollars for the school's fine arts department with very little effort!

The Fan-o-gram process can easily be handled completely by students, but it has to start a few weeks before opening night. Those running the Fan-o-gram have to:


Design, copy and cut several hundred Fan-o-grams. You can use the same design every time or stylize it to match your show.
Schedule other students (or parents) to be volunteers to work the Fan-o-gram table. Because Fan-o-grams are only sold before the show, it's a fast and furious time, so plan on at least half dozen volunteers, three to deal with the purchases and three to organize the purchased/completed Fan-o-grams.
Make signs with directions and price. Because they are only sold before the show, you'll want to advertise in advance so students know to arrive early and leave themselves time to write and decorate their Fan-o-grams.
Have markers and pens ready to go.
Set up money bags with plenty of change.
On show night, plan on selling Fan-o-grams for 45 minutes before your show. We set up two large tables. One is staffed by two or three people selling the actual Fan-o-grams. The other is loaded with markers and pens for people to decorate and write messages on their Fan-o-grams. As people complete their Fan-o-grams, here's what we do:


Have a volunteer collect the completed Fan-o-grams as people finish them.
These completed Fan-o-grams are sorted by organizers behind the scene so that each cast and crew member has his or her own stack. This makes for easy delivery at intermission.
A volunteer delivers the Fan-o-grams to the Stage Manager before intermission.
The monetary benefits of Fan-o-Grams were immediate and obvious, but we gained much more than extra cash from this fundraiser. We unexpectedly raised spirits, support and awareness for our program. In addition, by having students run this project, we built on student responsibility, organizational skills and ownership. In other words, we hit an educational jackpot!

These small slips of paper have made a definite impact on all the students in the school. Student audience members love buying them to support their friends in the cast and crew, as do their family members. And my students absolutely love receiving them during intermission, even if they don't have time to read them right away.

If you are looking for a way to boost your funds, boost morale and boost your department throughout the school... look no further than Fan-o-grams!

Keywords:
drama program fundraiser fundraising school theatre