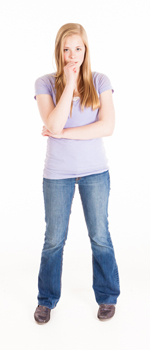 So you've chosen the show, rehearsals are underway and everything is going great.
Except—
Yeah, there's always an except. Challenges are just part of live theater, they'll always come up. Today I want to talk to you about that one kid who just doesn't gel with the rest of the cast and always seems to gunk up rehearsals. Most every cast has at least one. We've had a bunch over the years, and we'd like to share some of the ways that we've dealt with the prob. We've noticed these kids come in three categories:
THE LONER
You've seen them. They don't sit with the other kids, they don't fit in, they're just not part of the ensemble.
"Mark" came to our theater camp this past summer. Mark has a physical deformity that's kept him an outsider for most of his 14 years. If fact, it had become so typical for him to be excluded that he was more comfortable alone. But come on, theater kids are the most loving kids in the world. And our gang invited him to eat lunch with them, to play games, to talk, to be part of the clique.
But Mark wasn't used to this and always peeled away from the group to sit by himself. This made the other kids think he didn't like them, so they stopped asking him to join, and Mark's isolation became a self-fulfilling prophecy.
Click here to continue reading.

Keywords:
teaching drama working with student actors young actors