If you have a play already published with Pioneer Drama Service, there's now a new and exciting way we're promoting your shows... free script samples!
And if you have a blog or website, you can help promote your show further by posting these samples on your play writing site. It's incredibly easy and will definitely help directors and producers find your shows! Here's how to get your free sample script:
1) Go to the main page for your play on the Pioneer website.
2) Select the 'Script Sample' tab at the bottom of the page to open a pdf copy of the script sample.
3) *Save the pdf to your hard drive.
After that, all you need to do is go to your website or blog and post the sample online! (*Alternatively, instead of saving the file to your hard drive, you can also copy the web address for your script sample and link to it from your website.) It's a very easy way to give producers and directors a preview of the shows you've written and help them find the script they're looking for.
Now that it's November, it's time to get serious about having fun this Christmas! It's not too late to start rehearsing a Christmas play to add a festive and fun sparkle to your holiday season. These top-selling Christmas plays are easy to stage with very simple sets and costumes.
Besides the shows spotlighted below, including our latest release, Ho Ho Ho! The Santa Claus Chronicles, check out all of our Christmas plays and Christmas musicals. We also have a wide selection of Christmas Carol adaptations on our website.
JUST RELEASED IN TIME FOR THE HOLIDAY SEASON!

Ho Ho Ho! The Santa Claus Chronicles
Cast: Flexible cast of 8-20, plus optional extras
Set/Time: Bare stage with Christmas decor / About 40 minutes
Ho ho ho! Here's a fast, light-hearted Christmas play with plenty of small roles to give everyone their moment in the spotlight.
---
Jingle Bells Jury
If you're looking for something different, this is the ideal holiday play. Not only is it delightful and entertaining, it is also easy to perform with a role for everybody.
---
Christmas Unwrapped
Perfect for church or Christian school functions, this creative allegory unwraps the true meaning of the season — it's not about all the gifts, but about God's gift to mankind.

---
Black and Blue Friday
It's the day after Thanksgiving, and all Ellie and her new husband, Jackson, want is to celebrate their first holiday season at home together. But their holiday peace and quiet quickly turns into holiday chaos when they are summoned to the security office at the local mall.
---
The Baddest Angel Band
Teen angels Cherry, Spir and Angelina are about to be expelled from Angel School for playing Frisbee with the teacher's halo and for insisting that thunder is caused by angel burps. This hilarious thought-provoking play will be a high point in your Christmas season and a fun project for all.
---
The Mission
Suitable for all ages, The Mission is perfect as part of a church service or anywhere you desire a humorous skit with a strong Christian message that's appropriate at Christmas, Easter or any time of year.
Keywords:
Christian plays Christmas plays church plays last-minute Christmas plays youth plays
Updated Thursday, November 7, 2013
If you are looking for a way to boost your funds, boost morale and boost your department throughout the school... look no further than Fan-o-grams!
Imagine this... Your budget has just been increased! Not only do you have ample money to fund your season and your classes, you have enough to pay your seamstress, your accompanist and your choreographer. There is even enough in your departmental account for you to reimburse yourself for the four pizzas, two rolls of duct tape, gallon of black paint and box of screws you bought for the set crew last week! Unbelievable! What a wonderful moment!

For most of us in theatre education, this would indeed be a dream come true! If your department is like mine, the needs are many, the money is tight and creative resourcefulness is imperative. As the head of a small drama department, I am always on the look-out for simple, effective ways of fundraising. Fundraising that is easy to launch, maintain and manage. Fundraising methods that would enhance not only our bank account, but also my students. A few years ago, we struck fundraising gold. We found the Fan-o-G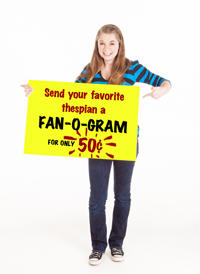 ram.

It all began with one of my juniors. She had been to see a production at another local high school. This school had a table where, for fifty cents, you could send a lollipop with a note backstage to the actors. If we wanted to give this a try, she said she would be happy to work the table during our next theatrical production. The rest, as they say, is history. We eliminated the lollipop and named the note a Fan-o-gram. Two Fan-o-grams fit on one 8½ x11 sheet of paper. We sell Fan-o-grams at all the plays and school talent shows for $.50 each. On average, we make around $75.00 per night. While it's not a lot, if you create a school culture of having this at every production, talent show, choir and band concert, you can raise hundreds of dollars for the school's fine arts department with very little effort!

The Fan-o-gram process can easily be handled completely by students, but it has to start a few weeks before opening night. Those running the Fan-o-gram have to:


Design, copy and cut several hundred Fan-o-grams. You can use the same design every time or stylize it to match your show.
Schedule other students (or parents) to be volunteers to work the Fan-o-gram table. Because Fan-o-grams are only sold before the show, it's a fast and furious time, so plan on at least half dozen volunteers, three to deal with the purchases and three to organize the purchased/completed Fan-o-grams.
Make signs with directions and price. Because they are only sold before the show, you'll want to advertise in advance so students know to arrive early and leave themselves time to write and decorate their Fan-o-grams.
Have markers and pens ready to go.
Set up money bags with plenty of change.
On show night, plan on selling Fan-o-grams for 45 minutes before your show. We set up two large tables. One is staffed by two or three people selling the actual Fan-o-grams. The other is loaded with markers and pens for people to decorate and write messages on their Fan-o-grams. As people complete their Fan-o-grams, here's what we do:


Have a volunteer collect the completed Fan-o-grams as people finish them.
These completed Fan-o-grams are sorted by organizers behind the scene so that each cast and crew member has his or her own stack. This makes for easy delivery at intermission.
A volunteer delivers the Fan-o-grams to the Stage Manager before intermission.
The monetary benefits of Fan-o-Grams were immediate and obvious, but we gained much more than extra cash from this fundraiser. We unexpectedly raised spirits, support and awareness for our program. In addition, by having students run this project, we built on student responsibility, organizational skills and ownership. In other words, we hit an educational jackpot!

These small slips of paper have made a definite impact on all the students in the school. Student audience members love buying them to support their friends in the cast and crew, as do their family members. And my students absolutely love receiving them during intermission, even if they don't have time to read them right away.

If you are looking for a way to boost your funds, boost morale and boost your department throughout the school... look no further than Fan-o-grams!

Keywords:
drama program fundraiser fundraising school theatre
Updated Friday, November 1, 2013
10/26 to 10/31
The holidays are upon us. Halloween was last night and it is time to shift gears and focus on Thanksgiving and Christmas. Christmas is now 7 weeks away. It is not too late to order that Christmas play to perform for the holidays. Here are some of our top tending Christmas plays this week.
Everyone's Christmas Story By: Kara Wilkins 60 minutes - 4 male 5 female and 9 that can be either. Strong religious theme: This is a cute story that comes full circle. The play starts out by taking the traditional Christmas tale and trying to jazz it up. In the end though, it comes back to the tried and true traditional story.
Fairy Tale Christmas Carol By: Flip Kobler and Cindy Marcus 60 Minutes - Flexible cast of 20-31. Fracture Fairy tale meets classical holiday tales. This is a great twist on the classical holiday stories with all the parts being played by your fairy tale characters like the Big Bad Wolf, Jacob Midas and Mother Goose.
Believe By: Faye Couch Reeves 45 minutes – Flexible cast of 33 (parts can be male or female). Has traditional holiday music: This story focuses on getting back to a traditional Christmas and away from the commercial over the top Christmas that we know today.
The Mission By: Karen Jones 20 minutes – 4 male 6 female. Strong religious theme: This show is perfect for learning those lines and putting together a show in just a few weeks. In this tale Jesus has gone missing and the Angels have to find him.
Living Nativity By: Karen Jones 20 minutes – 4 male 4 female. Comical Christmas tale: This story takes place in a courtroom. The nativity scene has become chaos and the members of the church find themselves having to explain themselves to the judge. This is a very funny and cute play.
Keywords:
Christmas Plays Cindy Marcus Faye Couch Reeves Flip Kobler holidays Kara Wilkins Karen Jones